Subbuteo In My Soul is about Terry Edge's journey from being captivated as a child by the sheer magic of a miniature football game, through becoming the youngest-ever English champion at 16, and on to his early twenties when he played a key role in saving the game from the money men who wanted to exploit it. Along the way, and driven by what was at first an unconscious desire to know what makes people tick, his experiences in playing at the highest level in Europe taught him valuable life lessons . . .  some of which he even took on board.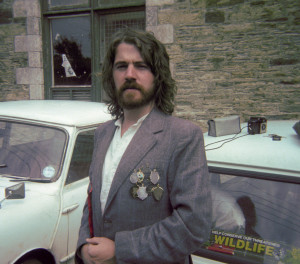 Terry Edge at the Cornwall Open 1977
For example, in 1976, Waddingtons (who owned Subbuteo at the time) flew six European National Secretaries to a hotel in Holland, where their Director opened the meeting by putting a million pounds on the table. "That's yours," he said, waiting for it to sink in. Then he named the price: that in return they had to agree to stop playing the game their way and do it the company's way instead. What should Terry do? Take the money or turn it down in favour of what he and his fellow players believed in?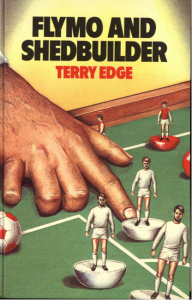 First published by Andre Deutsch.
From the Brecon and Radnor Express:
"Terry Edge is the author of an exciting modern tale for children, 'Flymo and Shedbuilder'. It is the story of  Ben, a 13 year old physics prodigy, who is selected by Doctors Hopkins and Parker to spend the summer at their Academy in Wales. Ben is surprised to find that the doctors (alias Flymo and Shedbuilder) have no interest in his brain: apparently, they want him to excel at table soccer. Only gradually does the doctors' purpose  become clear. When it does, Ben knows what a huge task lies ahead of him and why the doctors believe that only he can tackle it."
"Any 12 year old who's heavily into fantasy will love it."   –  BBC Radio Newcastle.
Serious writers have also used Subbuteo imagery in their work. Nick Hornby's Fever Pitch featured Subbuteo figures in its promotion campaign, while showing there is a large market for thoughtful, well-written, stories that focus around the male obsession with football. Irving Welsh featured a customised Subbuteo figure on the cover of his 2007 book of short stories, If You Liked School, You'll Love Work. The band, Saint Etienne, released a special Subbuteo version of their album Foxbase Alpha as recently as 2009.  And Teenage Flicks: Memories Of The Sub-Beautiful Game by Paul Willetts (Dexter Haven Publishing 2008) included testimonies about the game from the likes of Will Self, David Baddiel, Arthur Smith and Alistair Campbell.
The story takes the form of 50 short chapters, around 60,000 words in total, starting in 1959, when Terry opened his first Subbuteo box and finishing in 2007 when he was thrashed 4-0 by the German Youth Champion and decided it was time to hang up his, um, nail, at least where major tournaments were concerned.
The first part of Subbuteo In My Soul will be available soon.
Sample chapter below . . .
Front Room Champ's Bacon Threatened by the Full English
It's 1965; my best friend John and I are 13 years old. We knock on the back door of the Baker's Arms pub in East London. We've travelled from Upminster via two tube trains to Leytonstone station, then walked a mile and a half or so through the darkening streets. We're carrying our teams in our duffel bags, one of us convinced that tonight he's going to prove what he feels deep in his gut: that he is the best Subbuteo player in England, maybe even the world.
The door opens and a man of about forty, cigarette and pint of beer in hand, says, "What do you want, kids?"
"We're here to join the Hackney Table Soccer League," I say, a little annoyed he hasn't been expecting us.
"Strewth – either of you started shaving yet? Follow me."
We go up a steep flight of wooden stairs, into a long room above the pub, full of smoke, men much older than us, and magic: six tables covered in green baize bearing white Subbuteo playing lines. John and I have only ever played on the floor, cross-field passes always a risk, what with all the creases and folds. But here there are flat, emerald playing surfaces actually surrounded by low wooden barriers to stop the ball and figures falling on to the floor.
"We ain't started yet," says our guide. "Tell yer what: why don't I see if I can find a couple of blokes to give you a practice game?"
While he asks around, I look at John who raises his eyebrows. "They're all miles older than us," he says.
"But they're all drinking, too," I say.
Two men say they'll give us a game, see what we can do. Mine is about 30 and introduces himself as Ron Russ. My hands shake a little as I take my team box out of my bag, not so much with fear but in anticipation of how amazed this Russ bloke will be once he sees how good I can play.
Carefully, I line up in standard 4-2-4 formation, making sure all my Chelsea players are properly positioned by number. I almost feel proud of my little 3D men in their hand-painted blue shirts and shorts.
Russ surprises me by dropping onto the table a handful of the old-fashioned figures – flat, cardboard players mounted in the smaller bases. Doesn't he realise Subbuteo's OO-scale figures are the latest equipment – looking much more realistic than those boring two-dimensional non-entities? Not only that, his aren't even numbered.
His line-up is weird, too: seven figures spread across the shooting line, three on his side of the centre circle – nothing like football.
"Do you know the block-flicking rules?" he says. "We play flick-for-flick."
"We play three for each attack," I say.
"That's a Subbuteo rule," he says. "We play to the European rules here -every time the attacker takes a flick, the defender gets one, too."
I shrug, say, "Okay." If anything, this plays into my hands. I am already a great defender: now he'll be lucky to even get a shot.
"You want to kick-off?"
I nod, move my four attackers up to the half-way line, then play the ball at an angle, towards his right touchline. He flicks one of his defenders to block, just behind the ball. I flick another figure, hit the ball, but play it on to his defender.
He flicks once to get an angle, then plays the ball up-field, just inside my shooting area. I remember to block, and put a defender between the ball and his attackers. He puts a hand behind his left-side attacker, flicks the right side of its base and it moves in a smooth arc, around my defender to nudge the ball a little further forward. While I decide whether to block or pick up my goal-keeper wire, he steps around the table and shoots, sending the ball into the far corner of my goal.
I am surprised, hurt and a little outraged, but figure he must have been lucky. I don't look up or say well done, concentrating instead on making sure my next attack shows what I can do.
But he blocks the next attack, too, and within a minute scores another goal. I am holding my goal-keeper wire this time, keeper turned on its side. He shoots from the corner of the shooting area, whipping the ball over my keeper, dipping into the goal.
Face burning with anger and shame, I throw everything into the game. Ron, meanwhile, is talking to a friend who's wandered over, casually holding me off with his blocking, obviously not fully concentrating on his play. The game goes on for about twenty minutes – half the normal period – and at the end of it, he's won eight-nil.
The other man smiles and says, "Don't be too hard on yourself, kid. Ron's the English champion. You'll improve. How about you and your mate start in Division Three?"
I say little to John going home. He's been beaten too, but doesn't seem as bothered about it. I feel that everything I am has been ripped out of me and stamped on. It's as if the world has been lying to me for the past few years, making me believe I have some special talent when in fact I am little better than ordinary.
I can't sleep that night, the game running through my head non-stop. I try explaining away Russ's goals – lucky spins, me making uncharacteristic defensive errors – but I just can't account for eight. The fact is, he played at a level that is beyond anything I've seen before. If I want to try to reach that level, it means starting again from scratch. I'll have to change my playing teams, my tactics, my approach, even the way I flick. All my current sureties will have to be abandoned.
Or . . . I can simply not join the Hackney League. Instead, I can continue being the best player in our five-man Upminster League, winning all the trophies, scoring freely. I feel immense relief with this thought.
I hate Russ; hate that he exists; wish I'd never seen his skill, never been shown that a whole different level is possible.
Just over three years later, I line up my flat figured team – in 7-3 formation – to play in the English Championships Final. My opponent is Ron Russ.