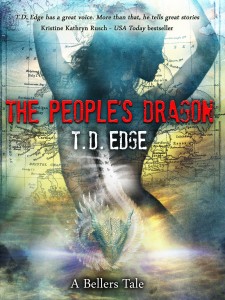 NEW!
Bellers Tales 2
Jack Stapelton's Bellers, a bunch of Cockney super-heroes, were decimated in the war with the Bloodjacker. They've barely recovered when most of the team is sent to the North Sea by MI5 to destroy a fire-breathing creature which may or may not be man-made. Jack, alone, follows clues to South Wales where rumours are that a real, ancient, dragon has been stolen from the spine of Arwen, the girl who housed it.
Some powerful, really scary guys intend to combine the two creatures and enslave the world. Jack must join forces with Arwen to stop them but if they succeed then Jack's great love, agent Meera Nath, will be destroyed along with the people's dragon.
Buy The People's Dragon at: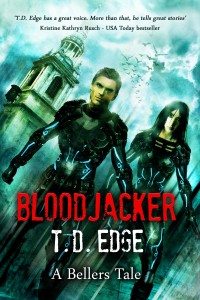 Bellers Tales 1

Super-powered Cockneys put the kibosh on fun to fight the Bloodjacker's growing vampire army
Jack Stapleton is one of the Bellers, a bunch of Cockney super-heroes who run secret missions for the British government but prefer to spend their time in virtual reality naughtiness or gambling away their grant. Jack's gizmo-inventing bachelor lifestyle is rocked when he falls for Sandra the local barmaid, then ripped apart after she's kidnapped by the deadly Bloodjacker who's supposed to be a myth.
With the ragged remains of the Bellers getting pummelled by the Bloodjacker's super-powered forces, it's all down to Jack. But in order to beat the Bloodjacker he must put his total trust in the woman he betrayed.
Reader reviews from Goodreads:
"The story went in directions I did not expect and involved more depth of character and intrigue than I had anticipated. I love when a book is a complete surprise and this helps to draw me in further. The pacing of the story is wonderful as well. It has plenty of action throughout, but starts slowly and lets you learn about the characters and then picks up speed like a locomotive charging down hill. Best of all, it makes for a great ride."
John
"This was not the story I expected to be. To be honest I could hardly put it down. The action was from the outset and hardly let up throughout the book. The story line was fascinating. The characters real and authentic. They were portrayed as real adults. There was some sex scenes but it didn't take over the story. It fitted in. There were moments where I laughed out loud. Hilary and Jeeves are hilarious. I would recommend this book to any one wanting a bit of vampire action that is not a teen romance."
Rita
"While the storyline was kind of wacky, the writing was very good and there was a lot of great humour. I found myself groaning but also laughing out loud many times. I especially liked Jack's communication systems who were named Hilary and Jeeves. They had some of the funniest lines in the book. I was going to give this book only 3 stars for its ridiculous storyline, but the good writing, characters, and humour pushed it to 4 stars for me."
Angie
"I didn't even put it down once. It was funny and interesting. The main characters were actually adults and not teenagers like every other book I read. In all honesty, really liked this book. It surprised me and it was different in a good way."
Meg
T.D. Edge has a great voice. More than that, he tells great stories."  Kristine Kathryn Rusch – USA Today besteller.
Buy Bloodjacker at: