Welcome to my website. On this page, I'm mostly sharing news of my recent publications and other writing activities. There is more information about my stories on the 'Fiction' page.
* * *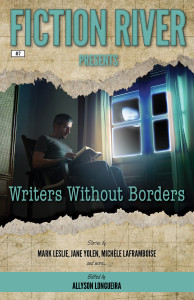 I'm delighted that my story, "Winning the Ocean Pearl" has been published in Fiction River's new anthology, "Writers Without Borders".  See below – "Risk Takers" – for more information. It can be purchased here: Amazon UK and Amazon US.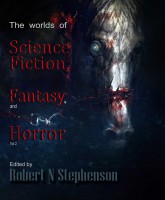 I have a story in the 2017 anthology, 'The Worlds of Science Fiction, Fantasy and Horror Volume 2'. It's called 'Booting Bottom' and the opening appears below. You can download the anthology free at Smashwords here: Anthology. I'd like to thank editor Robert Stevenson for encouraging me to write a different ending which really works well.
BOOTING BOTTOM
I can feel hungry eyes in the shadows, stripping me, and I'm not talking about my clothes. It's my soul they want. My Earth-virgin special spirit fizz. They've pretty much eaten all of each others' here and are fed-up with seconds. Which is why they want to cross into our Earth-zone, and why I've been sent to stop them.
I just hope they don't find out that I'm only a philosophy student who's been enhanced in more ways than I like to think about, but who is yet to kick her first arse, sorry–ass.
The street is narrow and stinks of human waste. Doctor Bronlock warned me that in this Earth-zone London, the distinct lack of intact souls means they've yet to develop past Victorian levels. And by the stink of it, also before their version of Sir Joseph Bazalgette built his wonderful sewage system.
Candle-light flickers in some of the windows but it's oddly quiet. I know Victorian London was full of diseases, drunkenness and dastardly men doing unspeakable things to women but by all accounts it was noisy too. Seems as if losing one's soul is not such a great conversation piece.
My mission is simple: walk down the street and let them attack me. Then I kill them, which should release said stolen souls and the resulting fizz-storm should mean their big bad chief himself has to take me on. When I kill him too everyone will be saved from invasion back home. Easy, but maybe hold the peasy for now.
I have a story in the latest edition (May 2016) of the Sci Phi Journal – "Invasion of the Common Sense Aliens". The Journal says:
In each issue you will find stories that explore questions of life, the universe and everything and articles that delve into the deep philosophical waters of science fiction universes.
An argument could be made that it's harder these days to get stories published which explore philosophical themes, even in Science Fiction. So I'm really pleased the Journal took this one. You can find it here.
* * *
My story "Stroppy Cow" appears in the June 2015 edition of New Myths. I'm very grateful to Scott T. Barnes and his team at New Myths for publishing four of my stories, all of which are completely different. This is very encouraging for writers who don't want to simply find their niche and exploit it.
You can read the story here: Stroppy Cow.
       "Why me?" said Kylie. "I mean, I might be anti-establishment but I don't do drugs and only get pissed on special occasions, like Fridays."
       "Our computers analysed all the UK's school rebels," said Hunter. "The reasons were always pretty clear: neglectful parents, social deprivation, standard middle-class temporary stroppiness. But in your case, they couldn't find any reason at all."
       "So what are you saying, chief?"
       Brian smiled, a genuine beamer for once. "That you're a stroppy cow just because you like being one."
* * *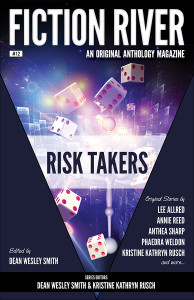 My story, "Winning the Ocean Pearl", is in the latest Fiction River anthology, "Risk Takers". Here is the bio that appears in the book:
T. D. Edge understands risk: He ran away from home to become a street theater performer, props maker for the Welsh Opera, sign writer, and professional palm reader at Pink Floyd gigs. Finally, he adopted the riskiest profession of all—professional writer. His short fiction has appeared in many places, including Realms of Fantasy, Flash Fiction Online, and Penumbra. He says that the following story takes place in London's East End, where T. D.'s grandfather's family once lived. "Granddad worked in a high-class bookies in the City until he was eighty," T. D. writes. "He had a nose for winners, but used to drive my dad nuts because he wouldn't give any tips. No one ever beats the bookies in the long run, he said. He made up bedtime stories for me when I was young, about a trio of adventurers called Jack, Sam, and Pete. In 2013, I published Bloodjacker, a novel about a bunch of Cockney superheroes, including Jack, Sam, and Pete." Jack, Sam, and Pete don't appear in this story, but echoes of T. D.'s grandfather inform every single word of "Winning The Ocean Pearl."
"Risk Takers" can be purchased from various places, including Amazon UK and Amazon USA.
* * *
I have a story in the first anthology from the very classy Novel Fox. It's called "Where's the King's Head?".
Samples can be read here: Novel Fox Anthology 1
The anthology can be purchased at: Amazon.co.uk and Amazon.com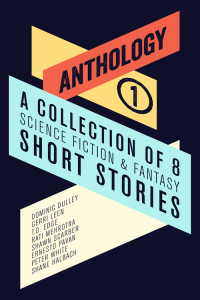 * * *
I've just finished teaching the first-ever Sf & Fantasy writing course at Denman College. It was great fun.
I like to work closely with students' needs, rather than from a set plan. But rather than me tell you about it, below are some comments from the students: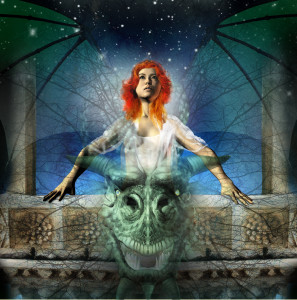 "I wish I'd discovered this tutor years ago. He's a most encouraging and positive person with huge knowledge of the writing world."
"[Tutor was] very knowledgeable – able to give really good information on how to improve and how to proceed to go on after the course – supportive and boosted my confidence a lot."
"Terry is an amazing tutor. He's a real 'catch' for Denman – don't let him go!"
"Loved having a deadline for the flash piece. Really enjoyed the in-class exercises."
[Suggestions for ways this class could be improved] "Invent space/time travel so I can pop back in time and do the course again!"
Information about two more courses I'm taking at Denman College in 2015 can be found here:
Summer Writing Retreat, 27 – 30 August
Finding Your Creative Flow, 12 – 15 October
* * *
My story, "The Woman Who Could Choose the Stars", appears in the latest edition of Albedo One. It can be purchased at: Amazon.com, Amazon.co.uk, Amazon.com.au and Amazon.ca.
* * *
My story, "The Teacher's Connection" appears in the latest issue of Black Denim Lit, a Literary Adventure magazine. You can read it at:
* * *
I just sold a story to Fiction River, a pro-paying series of anthologies: http://www.fictionriver.com/. My story is called "Winning the Ocean Pearl" and it will appear in the "Risk Takers" anthology due for publication in March 2015.
* * *
"System, Dragon, Spirit" – new collection
I've just released, through Lucky Bat Books, my first collection of short stories. 12 of these are available singly from various sources such as Amazon. Ben Baldwin has also produced a brilliant new cover for the anthology. He really has a feel for what my stories try to achieve and he captures their spirits perfectly. There is also a bonus story in the anthology – "Spirit Bags" – not available as a single, with another great new cover from Ben.
All the stories first appeared in top SF and Fantasy magazines such as Arc, Beneath Ceaseless Skies, and Realms of Fantasy. All Ben's covers are included – so, great value for money!
The collection can be purchased here:    Amazon UK           Amazon US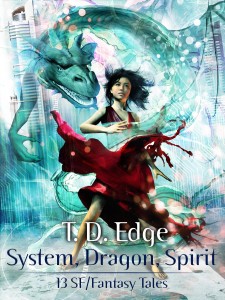 My story, "Made/Wild", appears in the Ancient New anthology from Deepwood Publishing, just released. It can be purchased here:
"Made/Wild" is a long short story which mixes Fantasy, Sci-Fi and Mystery. I wrote it instinctively, so the changes it makes, which I hope are exciting for the reader, were unexpected by me. After the instinctive bit, however, then came a lot of adjusting to make sure the story was logical!
I have read a number of other authors' stories for the podcast section of Beneath Ceaseless Skies.
The latest is 'Galapagos Regained' by James Morrow. You can listen to it here: Beneath Ceaseless Skies
Recently, I have written a couple of reviews for New Scientist's Arc Magazine, on Hugh Howey's books, 'Wool' and 'Shaft'. They can be read at:
My story, 'Spirits in the Salt', appears in the June, 2013 edition of New Myths magazine. It can be read online at: New Myths.
'Spirits in the Salt' can be read as a standalone story but it is also a follow up to 'System, Magic, Spirit' – the further adventures of Ambrose, the last remaining magician of the 'Legwin' tradition, who believe all magic comes at a price. In 'Spirits' he has to deal with the 'Roeling' magician who replaced him at Court – although she doesn't believe in his system she needs his guidance and so must journey deep into an ancient salt mine to face his eccentric and challenging tests.
'System, Magic, Spirit' first appeared in Beneath Ceaseless Skies and can be bought at:
My Story, 'Guy', appears in the January 2013 edition of Penumbra Magazine.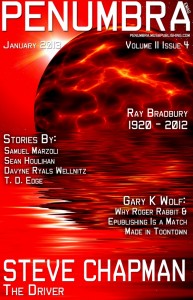 Ray Bradbury was my first great writer hero, and discovering his fiction was very much like coming home. I remember one time bunking off school because the local library told me they'd just got in the latest Bradbury collection I'd pre-ordered: "I Sing the Body Electric!" I took it back to school and read it under the desk while we were supposed to be reading James Joyce. So, I just had to take the Penumbra challenge of writing a story in the mode of Ray Bradbury. I decided it would have to include rich imagery and prose; the excitement, tinged with fear, of a young boy running through a dark wood; spirits of the past congregating in a carnival-type event; a child's simple sense of justice becoming a conduit for revenge of ancient crimes; and, perhaps most of all, to draw on my own emotions about these factors. The burning of the Houses of Parliament described in the book is based on an actual event I took part in, back in my street theatre days. It happened in Burnley, England, not far from where I lived in the shadow of Pendle Hill, and the ghosts of those unfairly hanged witches.
There is a great review of this issue at Tangentonline. Louis West says of 'Guy':
"An exceptional story. My choice for best of this superb issue."

My story, "Shuffle Town",  is in the December edition of Intersteller magazine, and you can read it here: Intersteller.
I wanted to write about a place where people's entire personalities change at random. Then set against it an ordinary person who has to negotiate it in order to save a loved one.
So, the citizens of Shuffle Town are addicted to the thrills of constant change while the world outside watches the results on reality TV. Heading bravely into this constant storm of personality switching is Jennifer, a mother intent on rescuing her daughter from Shuffle before it's too late . . .
My story, "Godblocker", is in the September 2012 edtion of New Myths magazine, and you can read it here:  New Myths.
I set myself the target of writing about how organised religion may be missing the point about God – a simple theme! And I thought it would work best if it was explored through the relationship between a man and a woman.
So it is that Stephen has no memory of how he arrived at Amanda's farm on Grassmere, a planet of small communities that collectively have erected a psycho-electro barrier around their planet to keep out anyone of faith. When Stephen discovers his origins he sets out to destroy the Godblocker and bring God to the faithless.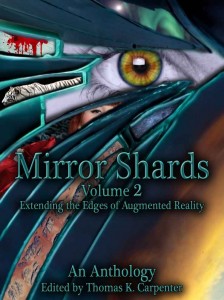 My story, "The Pressure of Ecstasy", appears in Mirror Shards 2 (published August 2012), available from:
I wrote this as my application story for the Odyssey Writing Workshop. Like quite a lot of my Science Fiction, the science part serves mostly to explore fundamental human issues, in this case the essence of memory.
Using Memory Net, Marian is able to recreate her lover, John, who'd died in a motorcycle crash. Once again, she has him in all five of her senses, but the question is, does she want him the way she remembers him or the way he really was?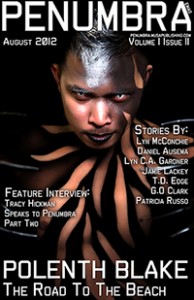 My Story, "A Gentleman's Needs", appears in the August 2012 edition of Penumbra, available from:  Penumbra.
I also have a guest blog post in Penumbra (July 2012) on choosing to find a niche as a writer or to just write what you like. You can read it here: Penumbra, A Shallow Recess?
T. D. Edge wins the Arc Magazine short fiction contest . . .
Arc is a new digital quarterly from the makers of New Scientist, exploring the future through the world of science fiction and intriguing, thought-provoking ideas.
Arc 1.1 featured stories by Margaret Attwood, Stephen Baxter, Bruce Sterling, China Mielville and others.
The winning story – "Big Dave's in Love" appears in Arc 1.2 (May 2012). The editors said:
"It is a story about how intelligence emerges out of emotion. It is about pleasure, and trust. It is also, by some margin, one of more perfectly structured stories we've read this year."
Dave McKean's marvellous cover for "Big Dave's in Love":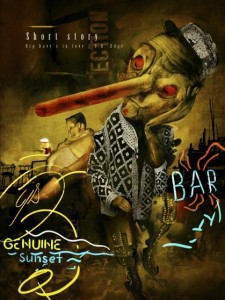 More information at:
You can buy Arc 1.2 at various places including: