Welcome to my website. On this page, I'm mostly sharing news of my recent publications. There is more information about my stories on the 'Fiction' page.
My Story, 'Guy', appears in the January 2013 edition of Penumbra Magazine.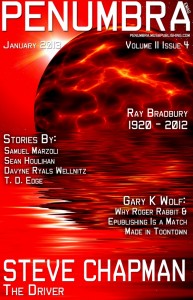 Ray Bradbury was my first great writer hero, and discovering his fiction was very much like coming home. I remember one time bunking off school because the local library told me they'd just got in the latest Bradbury collection I'd pre-ordered: "I Sing the Body Electric!" I took it back to school and read it under the desk while we were supposed to be reading James Joyce. So, I just had to take the Penumbra challenge of writing a story in the mode of Ray Bradbury. I decided it would have to include rich imagery and prose; the excitement, tinged with fear, of a young boy running through a dark wood; spirits of the past congregating in a carnival-type event; a child's simple sense of justice becoming a conduit for revenge of ancient crimes; and, perhaps most of all, to draw on my own emotions about these factors. The burning of the Houses of Parliament described in the book is based on an actual event I took part in, back in my street theatre days. It happened in Burnley, England, not far from where I lived in the shadow of Pendle Hill, and the ghosts of those unfairly hanged witches.
There is a great review of this issue at Tangentonline. Louis West says of 'Guy':
"An exceptional story. My choice for best of this superb issue."

My story, "Shuffle Town",  is in the December edition of Intersteller magazine, and you can read it here: Intersteller.
I wanted to write about a place where people's entire personalities change at random. Then set against it an ordinary person who has to negotiate it in order to save a loved one.
So, the citizens of Shuffle Town are addicted to the thrills of constant change while the world outside watches the results on reality TV. Heading bravely into this constant storm of personality switching is Jennifer, a mother intent on rescuing her daughter from Shuffle before it's too late . . .
My story, "Godblocker", is in the September 2012 edtion of New Myths magazine, and you can read it here:  New Myths.
I set myself the target of writing about how organised religion may be missing the point about God – a simple theme! And I thought it would work best if it was explored through the relationship between a man and a woman.
So it is that Stephen has no memory of how he arrived at Amanda's farm on Grassmere, a planet of small communities that collectively have erected a psycho-electro barrier around their planet to keep out anyone of faith. When Stephen discovers his origins he sets out to destroy the Godblocker and bring God to the faithless.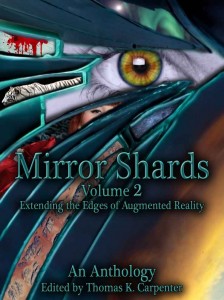 My story, "The Pressure of Ecstasy", appears in Mirror Shards 2 (published August 2012), available from:
I wrote this as my application story for the Odyssey Writing Workshop. Like quite a lot of my Science Fiction, the science part serves mostly to explore fundamental human issues, in this case the essence of memory.
Using Memory Net, Marian is able to recreate her lover, John, who'd died in a motorcycle crash. Once again, she has him in all five of her senses, but the question is, does she want him the way she remembers him or the way he really was?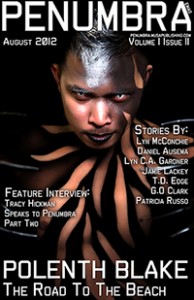 My Story, "A Gentleman's Needs", appears in the August 2012 edition of Penumbra, available from:  Penumbra.
I also have a guest blog post in Penumbra (July 2012) on choosing to find a niche as a writer or to just write what you like. You can read it here: Penumbra, A Shallow Recess?
T. D. Edge wins the Arc Magazine short fiction contest . . .
Arc is a new digital quarterly from the makers of New Scientist, exploring the future through the world of science fiction and intriguing, thought-provoking ideas.
Arc 1.1 featured stories by Margaret Attwood, Stephen Baxter, Bruce Sterling, China Mielville and others.
The winning story – "Big Dave's in Love" appears in Arc 1.2 (May 2012). The editors said:
"It is a story about how intelligence emerges out of emotion. It is about pleasure, and trust. It is also, by some margin, one of more perfectly structured stories we've read this year."
Dave McKean's marvellous cover for "Big Dave's in Love":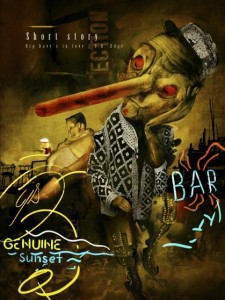 More information at:
You can buy Arc 1.2 at various places including: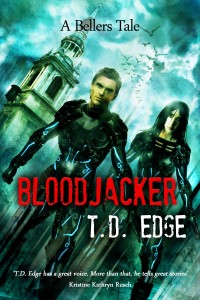 Coming soon . . .
BLOODJACKER
A Bellers Tale
A novel published by Lucky Bat Books
[Not final cover.]
Super-powered Cockneys put the kibosh on fun to fight the Bloodjacker's growing vampire army.
Jack Stapleton is one of the Bellers, a bunch of Cockney super-heroes who run secret missions for the British government but prefer to spend their time gambling and bonking away their grant. Jack's gizmo-inventing bachelor lifestyle is rocked when he falls for Sandra the local barmaid, then ripped apart when she's kidnapped by the deadly Bloodjacker who's supposed to be a myth.
With the ragged remains of the Bellers getting pummeled by the Bloodjacker's super-powered forces, it's all down to Jack. But in order to beat the Bloodjacker he must put his total trust in the woman he betrayed.