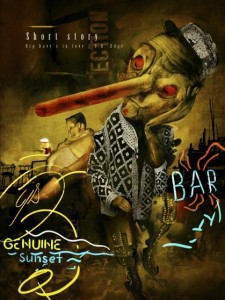 I have been a professional author, writing coach and freelance fiction editor for over thirty years. My novels have been published by Andre Deutsch, Transworld, Hutchinson and others. Writing as T D Edge, my short fiction has appeared in many magazines and anthologies, including Aeon, Realms of Fantasy, Arc, Beneath Ceaseless Skies, and Flash Fiction Online.
I have tutored and coached for various organisations, including the Open College of the Arts and, currently, Denman College. I continue to lead my own writing workshops for both published and unpublished authors. I edit for individuals and for publishers, and my services cover all forms of fiction. As a writer, I've attended many workshops on both sides of the Atlantic. I'm also a member of the Science Fiction and Fantasy Writers of America and the Scattered Authors Society.
Why Work with Me as Your Freelance Editor/Coach?
Publishing is currently undergoing a revolution. E-books and online publishing mean authors are now able to sell their work direct to readers. In traditional publishing, a massive gap has opened up between what a publisher expects from a new writer and what that writer is actually capable of without professional help prior to submission.
What I can do is fill that gap. I'll tell you exactly what does and doesn't work in your book or short story – looking at the bigger picture of plot and characterisation, and the line-by-line features of dialogue, style, technique and more. Your professionally edited manuscript will then stand out from the crowd, whether submitted to a publisher or sold direct by you.
How I Work
I believe in tailoring my services to what you actually need. For this reason, I don't charge a fee per thousand words of your novel or story, as do most manuscript agencies. I charge per hour of my time, which means you can decide exactly what you want me to focus on. I will read some of your work in advance then discuss with you what best to concentrate on. It could be, for example, you want me to work mainly on the first three chapters and synopsis towards your submission package. Or you may prefer me to write a report on the whole novel. I can also help with cover letters and proposals. It's up to you, but I'm happy to offer suggestions if you aren't sure what most needs attention. The initial discussion is free of charge, whether or not we then decide to work together on your project. My fee also includes a follow-up discussion by telephone or email.
I will only work with you if I truly believe I can help, whether for a one-off report or as you progress through the different stages of your development. Here are some of my clients' comments:
"I'd just like to say the report you sent is the best critical feedback I've ever received."
Frank Coles, author of 'How to Drive a Tank' (Little, Brown & Company), journalist and film-maker for the National Geographic Adventure Channel.
"I had paid two manuscript agencies for reports – one was so glowing as to be unconvincing, and shallow in its recommendations; the other seemed to want me to write an entirely different book. Neither were worth the money. I then went to Terry Edge – and that's when I learned not only how to make my novel very much better, but more importantly he highlighted the problems in my prose, plotting and characterisation, the kind of one-to-one you crave but just can't get elsewhere – he pulls no punches (ouch!) but I emerged not just with a better novel but as a much better writer and novelist. (For the record, an agent did ask for the full manuscript of the novel once I'd rewritten it using Terry's Report.) I just can't recommend him enough."
Andrea Webb Reilly.
"Terry has helped me with several novels and smaller projects, allowing me to develop my writing. With his guidance, I have honed and tailored my submissions and even restructured the way I write and the way I tackle new projects, and his encouragement has often spurred me on when at times writing has been more act than art. More than anything, he has teased out the real writer in me."
Darran Summerfield.
"I'm only allowed out on special occasions such as this, so listen carefully. I can highly recommend Terry. I probably would have given up by now if it wasn't for him . . . he has had the patience of a saint and his advice has been invaluable. Trust me, there really aren't many like him around."
Kal Bonner, author of  'Climbing A Ladder Backwards' (shortlisted for the Longbarn First Novel award 2007).
"What impressed me most about Terry's report on my first novel, was his ability to be brutally honest yet totally supportive. As I read (and re-read) all the comments that infected every part of my manuscript, little lights went on in my head, each of them a little eureka moment when theory and practice fused and I finally understood where I was going wrong. But Terry didn't just write a report spelling out all my many errors – he asked questions, a lot of questions and this is what made the exercise so valuable. To answer those questions I had to think about plot and character in ways I had never done before. He made me do all the leg work, that meant I had to come up with solutions and when I got lost he was there with more questions to help steer me back on track. The exercise was so inspiring that within weeks of getting Terry's report I was working on a new novel and it is currently doing the rounds."
Peter Mulryan is author of five non-fiction books and a TV producer. He has also written four feature screenplays and made two award-winning shorts.
"Thank you so much for reading and commenting on my first draft. I thought your comments were absolutely spot on, and found them extremely helpful. I really appreciated the time and care you put into your critique. You have a wonderfully acute story sense, and I agree with pretty much every point you made. In fact, you almost seemed to understand my story and characters better than I did, and I've no doubt that it will be a much better book for having had your editorial eye cast over it at an early stage. I can see now exactly where I was going wrong, and hopefully how to put it right. Thank you again."
Lee Weatherly, author of 'Child X', 'Kat Got Your Tongue', 'How to Write a Blockbuster', 'Angel' and many others.
If you would like to discuss how I can help you, please write to me via the Contact page.